Saturday - May 05
Recital Room
The Burnt Room: Performance 2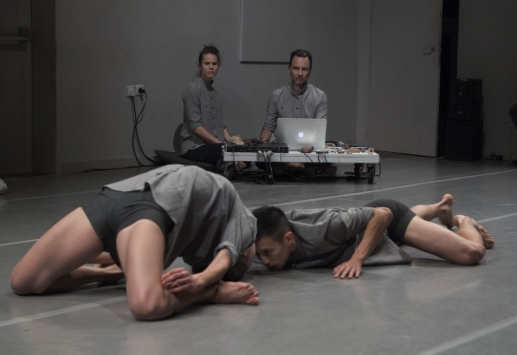 22:30
The Burnt Room: Perf 2
Sparse and monochromatic, The Burnt Room is performed by two dancers accompanied by its two creators, who are also responsible for the live soundtrack. Some of the familiar traits of Zuk and Fishof's previous work are easily noticeable here: the measured theatricality; the use of movement to create a world of ethnographic fiction, with fabricated rituals, invented languages and an affi nity to the absurd; and the complex interrelations between what is seen and what is heard. They often employ choreographic algorithms which can be manifested in dance and sound simultaneously, and thus create a multidimensional choreographic tapestry of audial movement and visible sound.
The performance lasts approx. 55 minutes.
Strictly limited capacity. Advance reservation is essential. Please reserve your space on arrival at City Halls, on the day of performance. Spaces will be allocated on a first-come, first-served basis.