Syzygys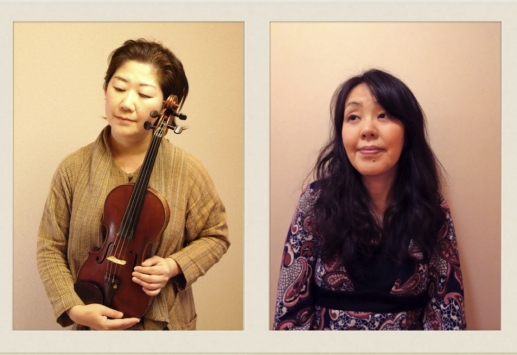 ---
Performances
-
-
Syzygys are Hitomi Shimizu (43microtone Organ) and Hiromi Nishida (violin).
Hitomi Shimizu is a composer for film and TV soundtracks and winner of the Japan Academy Award 2001 for the Japanese film " Waterboys" She specializes in aimationmusic and has been collaborating for many years with Koji YAMAMURA, for example , on his Oscar-nominated short animation " Mt. Head" (won best soundtrack award in France) Hitomi has studied music composition since the age of 14 and is especially intersted in micro tuning. After graduating from Toho Gakuen Conservatoire,she built herself a 43-tone microtuning organ ( according to Harry Partch tuning) and made frequent live performances as "SYZYGYS" in Tokyo.
Hiromi Nishida was born in Tokyo. She studied Arabic style violin under Abdo Dagir in Cairo (1995~1998) and played in his ensemble. She also performed with Fathy Salama in Egypt and France and played and recorded with Nubian singer Mohamed Mounir. In 1999, played with German Oud player Roman Bunka group at the 1st oriental Jazz festival in Beirut and in 2001,toured in Tunisia with the classical Arabic music group "Le club bachraf" supported by the Japan Foundation.
---
---